Thanksgiving Stickers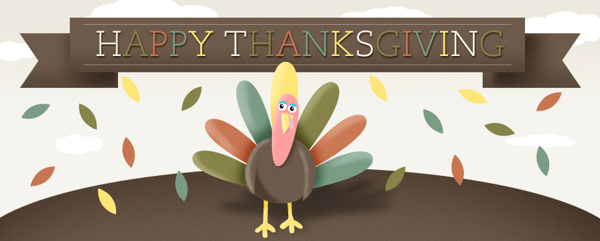 Print custom stickers and add a fun twist to your Thanksgiving promotions.
Customize your stickers and choose from a wide variety of sticker formats, sizes, shapes, and materials for any application.
Print Unique Thanksgiving Stickers for Your Promotions
Fall is here, along with new sticker printing ideas to get your business noticed. As customers gear up for the holidays, you can print custom Thanksgiving stickers to boost brand recognition and update your products with a fresh look.

With the festive season coming up, Thanksgiving stickers also make great freebies for events and in-store purchases. Print stickers with your logo and social media handles to hand out as "business stickers" every time a customer buys from your business. If you're in the e-commerce industry, try including custom stickers to enhance the unboxing experience.

Stickers are tiny but mighty advertising tools in any industry.

At PrintRunner, we print stickers for any requirement. Our easy-to-use website lets you customize stickers in a wide variety of printing formats, sizes, shapes, and materials.

Upload your own design or create a layout from scratch on our free design tool. You can even download our free print templates to help you set up your design file. Our print experts also provide free proofs so your design prints according to your exact requirements.

Order custom stickers, and we have can have your prints ready for shipping in just a few business days.
How to Customize Thanksgiving Stickers With PrintRunner
Whether you're a design novice or an expert, everything you need to print stickers is on our website.

Select your preferred sticker format and printing options from the dropdown options, and the calculator automatically updates the price and shipping information according to your preferences.

When customizing your order, it's important to choose a sticker that will suit your application requirements.

Start with your sticker format. We offer four (4) ways to print stickers:

Cut-to-size stickers are printed and already trimmed in your design's exact size and shape. Since they're individually cut, this sticker format is ideal for event giveaways and packaging inserts.

Kiss-cut stickers are also printed and trimmed per piece, except it comes in a standard square shape. A protective border surrounds your design. When you pull the sticker, the backing around your sticker shape stays intact with the border. Kiss-cut stickers are also perfect for promotional handouts because you can add messages or contact details on the extra border space.

Roll stickers are ideal for bulk sticker printing. These stickers are printed and spun around a cardboard spool that fits most label dispensers. You can use the roll format for product labeling and other projects that require quick sticker applications.

Sheet stickers allow you to print the same artwork or various designs on adhesive paper. Like kiss-cut stickers, your designs are laser-trimmed on the sides, but not through the backing—so you can peel off the adhesives with no trouble at all.

You can choose from standard options for sticker shapes such as rectangle, square, circle, and oval. We also offer arch, hexagon, heart, starburst, and even custom shapes.

We have sticker materials to suit all types of applications. For indoor stickers, choose from white sticker paper, premium sticker paper, and Estate adhesive paper. For waterproof and outdoor applications, we offer white vinyl and BOPP (biaxially-oriented polypropylene).
Greet the Start of the Holidays with Thanksgiving Stickers
Whether you hand them out as freebies or sell them as brand merchandise, custom stickers keep customers engaged during the busy holiday season.

Brand anything under the sun. Stick them onto the surface or create stickers that double as gift tags, anything goes! You can even highlight slow-moving products and get them noticed using Thanksgiving stickers.

Promoting fall-flavored products? Say it with stickers. It's the season when pumpkin-spice cold brew, maple-flavored donuts, and salted caramel permeates product offerings. You can print fall and Thanksgiving-themed product stickers so customers know these are flavors specific to the season.

Decorate plain packaging with stickers. This is the perfect budget-friendly alternative to custom boxes and packaging. Instead of ordering a custom box, decorate it with Thanksgiving-themed stickers instead. You can also print your logo, various messages, and on-brand iconography to decorate packaging.


Related Articles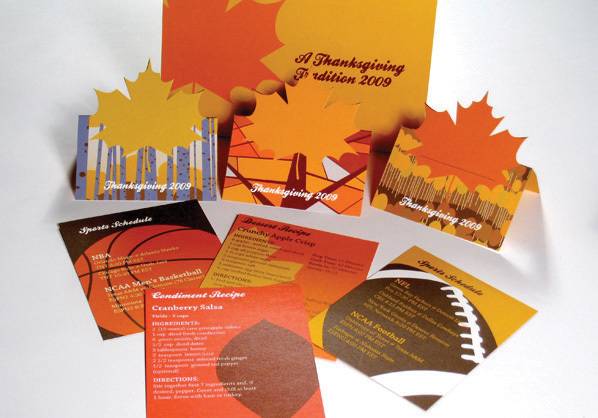 5 Must-Try Online Marketing Tips for Thanksgiving Day
NOVEMBER 13, 2012 | by PRINTRUNNER
In a time when convincing people to spend their money on your business has become much more difficult, saying "thank you" can sometimes do the trick.
Have a Great Thanksgiving Promotion By Printing Posters
OCTOBER 30, 2010 | by PRINTRUNNER
Posters are an affordable and effective way to promote any event, from a school bake sale to a raucous rock show. But have you ever thought of printing posters for your Thanksgiving event?

Question and Answer
Can I print stickers in any shape?
Yes. We can trim your stickers and labels to your design's exact size and shape. Let us know you want custom die-cut shapes by selecting Custom in the order calculator. We use a process called die-cutting, which applies to all sticker formats.

How do I get my design proofed for free?
How do I get my design proofed for free? When you upload your design on the website, select the PDF proof option before checkout to request a free proof. After confirming your order, our prepress team will e-mail you a PDF document for your review. You can check for any design errors and make necessary changes before it goes to print. This process is free of charge and will be ready within 6 hours after you place your order. We will only print your stickers once you have approved the proof.

Do you provide free sticker samples?
You can request a free sample kit to compare materials and products before making an order. This sample kit includes our most popular print product samples, including custom stickers so that you can compare paper stocks, coatings, and features.

Do you have sticker templates?
Yes, you can download these free templates from the Templates tab under the order calculator. These blank templates are compatible with popular software like Adobe Illustrator, Adobe Photoshop, Adobe InDesign, and Microsoft Publisher.

How much does it cost to print Thanksgiving stickers?
Prices vary depending on your preferred format, size, shape, and material. You can use the order calculator to check the estimated price of your stickers. Input the size, material, quantity, and preferred printing turnaround time so the calculator will generate an instant quote.
---
Related Products
Browse by Category